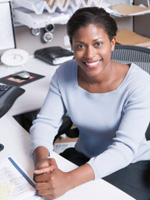 Our office is pleased to accept your insurance assignment. We offer this service as a courtesy to our patients. However, it must be clearly understood that the "contract" is between the patient and the insurance company. It is then the responsibility of the patient for any amount not paid by the insurance company. We encourage you to become familiar with your policy copayments/coinsurance, deductibles and exclusions.
As a courtesy to you, we will:
• Verify your benefits and eligibility
• Estimate your copay/coinsurance to the best of our ability
• Submit your insurance claim
• Resubmit your claim a second time within 60 days, if necessary
Our office does not guarantee that the patient's insurance will pay. We will perform our routine insurance procedure upon verification of coverage. However, if for some reason the patient's insurance claim has been denied, the patient is then responsible for the full amount of the bill.
• Copayments, coinsurance and deductibles are due at the time services are rendered.
• Out-of-network patients: The insurance company will send payment for services rendered to the patient's home. We require the patient to promptly endorse the check over to the Dr. B.
• Non-insurance patients: Payment is due at the time services are rendered.
This agreement is to ensure that Dr. Borodaty will receive payment for services rendered in his office. After payment has been received from your insurance company, the patient is responsible for the balance on their account. If your bill becomes 30 days late, you will be required to pay 15% interest per month. If an account becomes delinquent and is sent to a collection agency, the patient will be responsible for the account balance along with the cost of the collection fees and any legal action taken.
For your convenience, we accept cash, checks, debit and all major credit cards. There is also outside financing available through <a href="https://www.carecredit.com/Pay/265QVT/">CareCredit</a>.
When there is a delay, for any reason, in receiving payment from the insurance carrier of more than 45 days, it is the responsibility of the insured to pay for services rendered and investigate the delay. We must emphasize that as dental care providers, our relationship is with YOU, not your insurance company.
We accept these dental insurance plans: Delta Dental, MetLife, UPMC Dental Advantage, United Concordia Dental and Aetna.
Our fees are based on the quality of the materials we use and our experience in performing your needed treatment.
If you would like to review your dental insurance and financial arrangement options with one of our team members in advance of treatment, please call (855) 842-6515.

Our practice processes insurance from the following companies - please call our office at
(412) 931-7900

to verify your specific coverage.