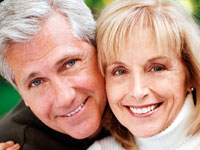 Prosthodontists like Dr. Borodaty specialize in the restoration and replacement of broken and missing teeth. After the standard four years of dental school, these experts spend an extra three years receiving advanced training. It's this additional training in dentures and fixed prosthodontics that makes Dr. Borodaty the ideal source for prosthodontic care in the Pittsburgh area.
At A.I.R. Dentalplex, Dr. Borodaty can fit you with removable prosthodontics, which allows you to replace missing teeth with appliances that you can take in and out of your mouth. Examples of removable appliances include dentures and partial dentures. Dr. Borodaty can also create fixed prosthodontics, which replace missing or broken teeth with restorations that are permanently attached to the patient's mouth. Veneers, crowns, bridges, and implants are examples of common fixed prosthodontics.
We would be happy to discuss all of the ways that Dr. Borodaty can help with your prosthodontic needs. To make an appointment at A.I.R. Dentalplexin Pittsburgh, call (855) 842-6515 today!